Beautiful, Relaxed & Natural Wedding Photography
I like to keep my wedding photography as uncomplicated as possible for my clients, quite often working with a mixture of reportage and contemporary styles of photography, which give a natural looking and beautiful blend of both formal and informal imagery. I have a reputation of capturing those special unique moments in time and love to see the reactions of my clients when they see their timeless images presented in my creative and stunning luxury products.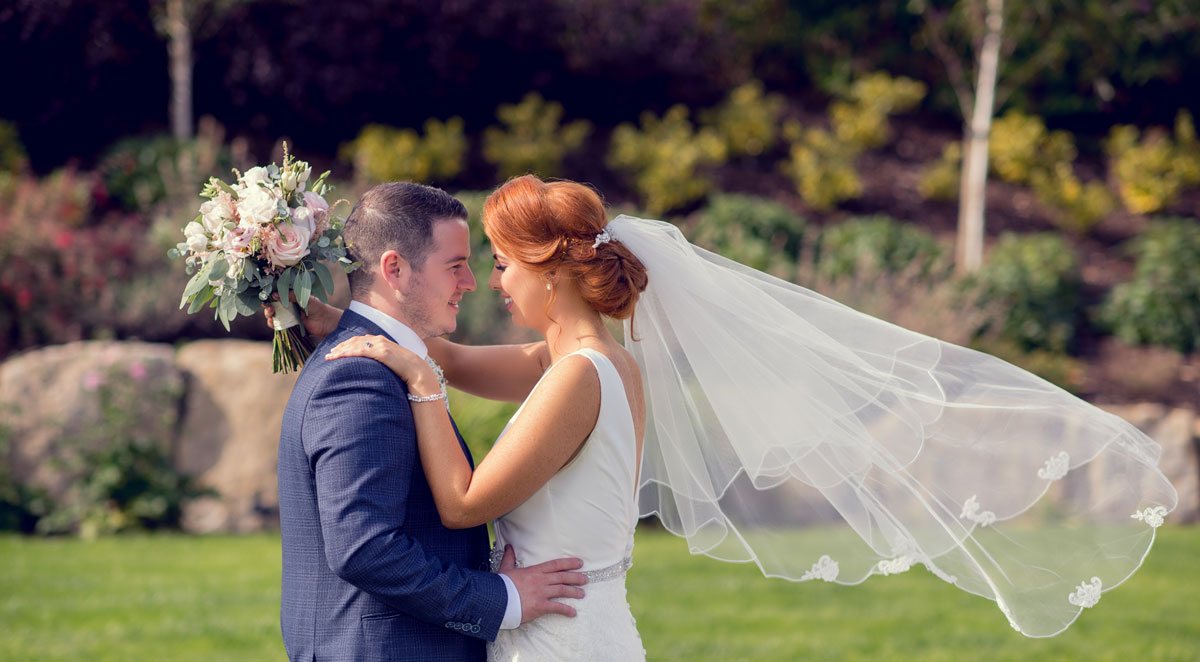 I love that my wedding photography work requires me to travel and discover new places on our little island. For me, it helps keep things interesting which results in great personal memories for my clients, and covering the whole of Northern Ireland and Ireland as standard, it's offers the perfect blend for wedding photography and engagement sesions.
The studio allows me to shoot creatively, no matter what the weather is. It's a fantastic benefit to have and it enables me to offer a superior level of service.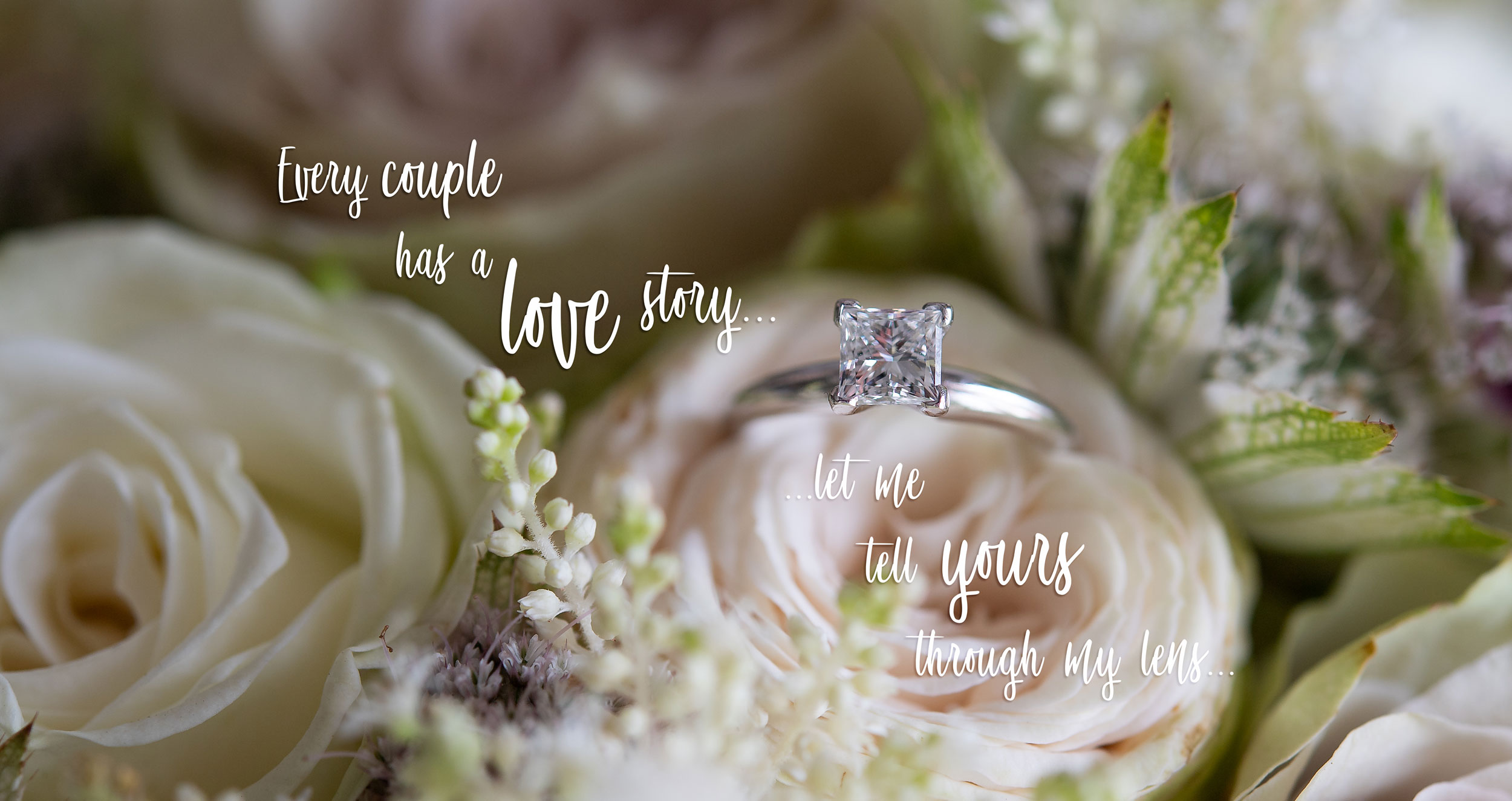 What The Clients Are Saying…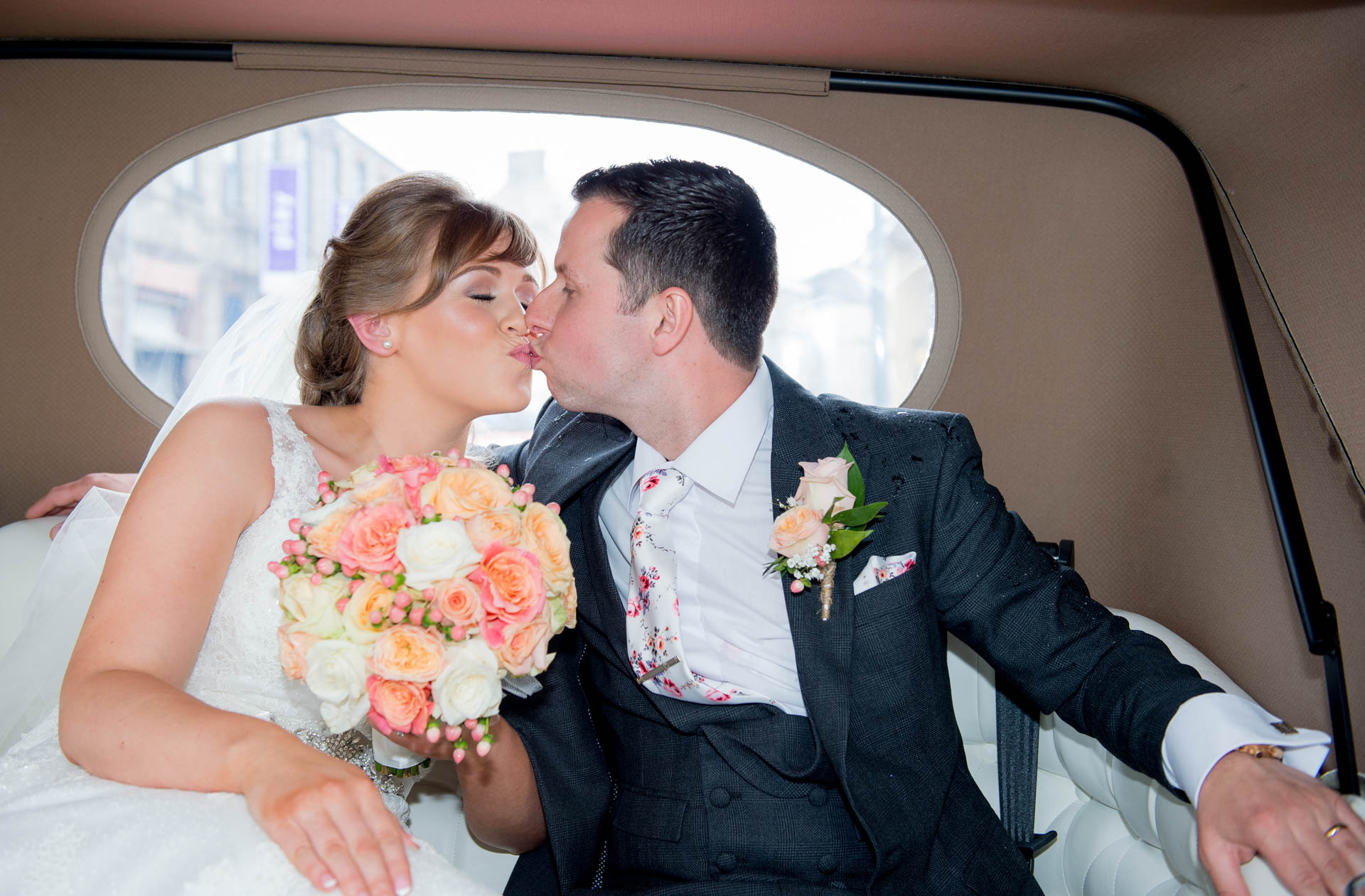 "OH MY WORD TREVOR! You are amazing!!! The album is PERFECT"
"Absolutely delighted with the photos! You have done such an amazing job!"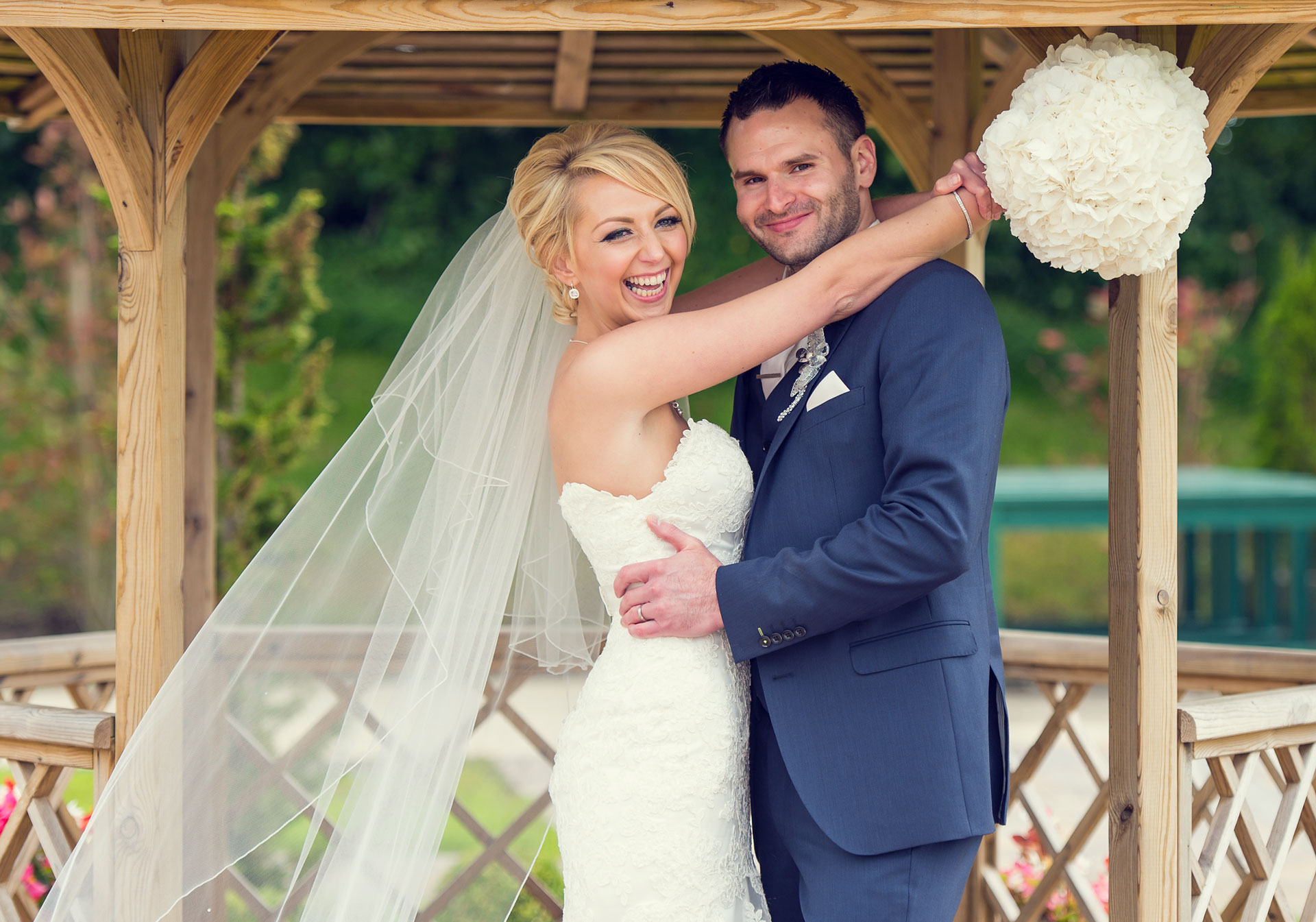 "Trevor is so relaxed and approachable, he made myself and the bridal party feel so at ease.
The albums are fantastic and nothing was a problem to him!
Could not recommend him more!"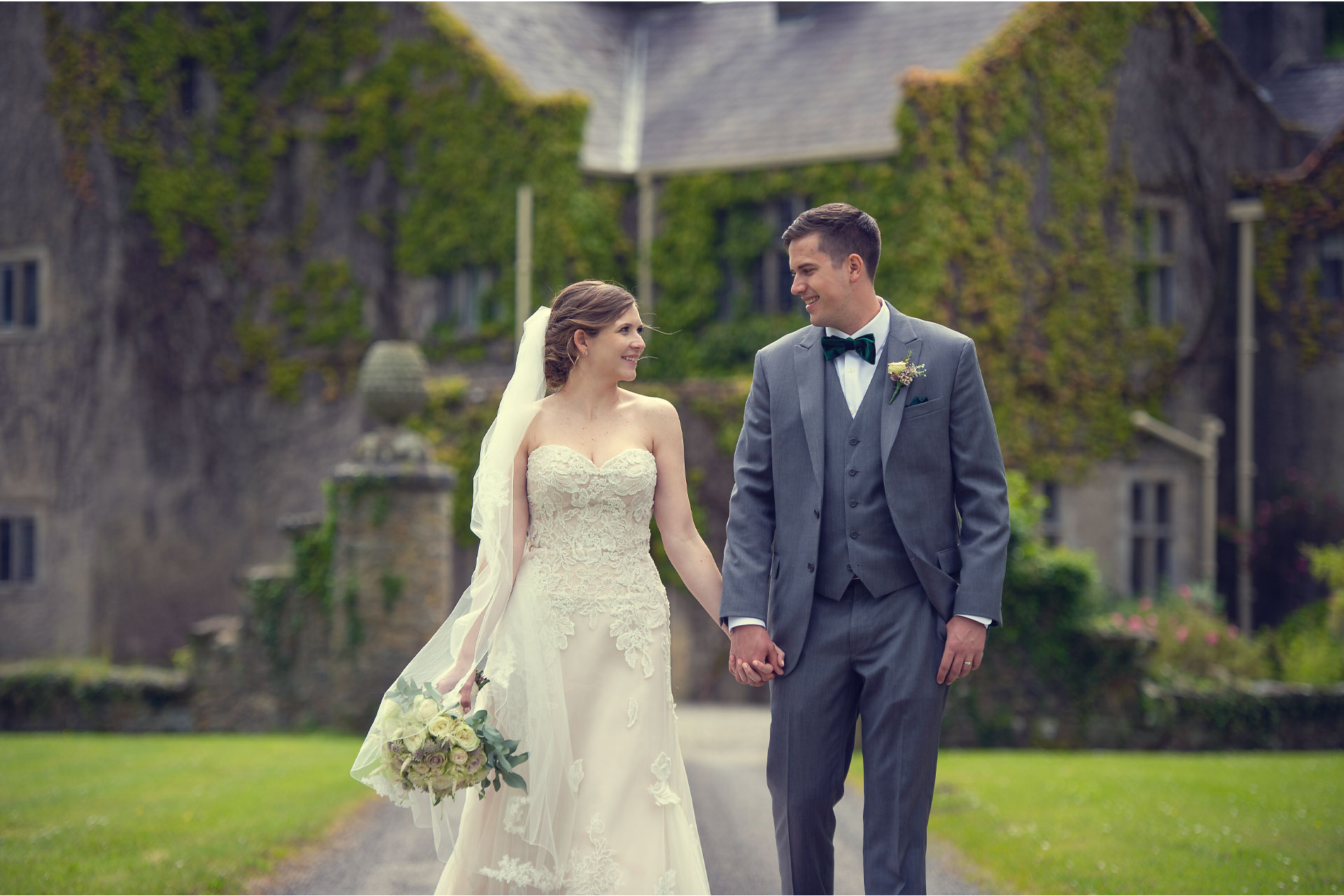 "We married last summer and Trevor was terrific.
He was very accommodating  given the fact that we lived in America and had no way of meeting him in person before our big day.
He was personable and just seemed to naturally pick up on what our taste was as a couple…The photos came out great and our album is beautiful.
He is worth every penny, and you will not be disappointed! Thanks again Trevor!"
Please enjoy this collection of my bride and groom portraits taken from weddings throughout both Northern Ireland and Ireland.
ALL of my Wedding Collections include as standard:
All Day Wedding Photography
It's possibly one of the most important days of your life to date, and that's why I dedicate an entire day to capture it, in all of its beauty.
My all day wedding photography covers everything from your bridal preparations in the morning, right the way through to cutting your wedding cake and includes your before dinner speeches. This is usually around 8 hours of coverage, but rest assured, I'll not leave until dinner has started to be served.
There is the option of extended coverage too, which would cover any after dinner speeches and also your first dances as a married couple. I'll stay for a few more dances if the craic is good and there are pictures to be had.
A Bespoke Luxury Wedding Album
Your wedding album is the only thing that will live forever and tell the tale of your wedding day for generations to come.
The cake will have been eaten. The band will have played their music and entertained you and  your guests that night. The suits will be returned, or might come out on special occasions from time to time. The dress will be stored away and might never see the light of day again. The shoes the same. The flowers will have passed their best, wilted and died before long.
That's why I believe a wedding album is one of the most important aspects of your wedding day. It will have the photos of loved ones, that in years to come, will pass away. These photos become even more precious to us then and your album will help you relive the story of your wonderful day and also bring back happy memories from further back in your memory too. There is and unexplainable nostalgic effect when your hold and look at a photo. And an album full of memories is a precious book indeed. 
It is possibly your first family heirloom.
My Wedding Collection 1 album is anything but standard though. It is a fabulous hand-made Italian album that offers superb print quality and a whole host of cover colour combination possibilities.
Wedding Collection 2 Albums extend the realms of quality to a whole new level of style and sophistication. You can make them as classically timeless, or as modern and funky as you like. There is a whole host of options within these – from different page types or styles, as well as a whole host of cover styling options. There is something for everyone here and they really are a thing of beauty, no matter which you choose. I'll help you pick one that best suits you and your particular style, based on what I see on your wedding day.
Studio Viewing Session
Within 8 weeks or less of your wedding day – guaranteed – I'll invite you back to the studio where you will see your wedding day images for the first time. It's an exciting process, and at the end of your viewing, we will have made the final adjustments to your wedding album design and selected all of your customisation options. Your album can then be sent to the specialised manufacturers and I'll be as excited as you are awaiting it's return.
High Resolution Digital Photos
You'll be able to enjoy a digital copy of every single image that is within your wedding album. It's the perfect modern accompaniment to your timeless wedding album. You will then be able to print, share or do whatever you like with them.
Private Online Image Gallery
I'll put all of your images into a private online gallery for you too. You'll be in control as to who see's the images with a password protected gallery so they're safe and secure. 
Easy, Split Payment Option
This is a great option to help you spread the cost of your wedding. It's completely optional and doesn't cost any extra. Basically, your balance is split evenly over a number of months with regular automated payments. Super simple! Super handy!
Wedding Gift Registry Service
This is a new service that allows you to select a number of your wedding guests to receive a special link where they can then gift you photography products. It's a great way to be able to supersize your already amazing album with extra pages for instance. Or, if you prefer, the funds can be used for anything else photography related. Perhaps you would love a mega framed picture in your new home perhaps – made with your favourite image from your engagement shoot or your wedding day – or even a collection of images for some show stopping style. The choice is yours…
Wedding Collection 1 has everything that is listed above. The album in Wedding Collection 1 is a beautiful, finely crafted and handmade, Italian wedding album. Take your pick from 40 cover colours and create everything from the refined and sophisticated minimalistic look, to the bright, statement-making work of art.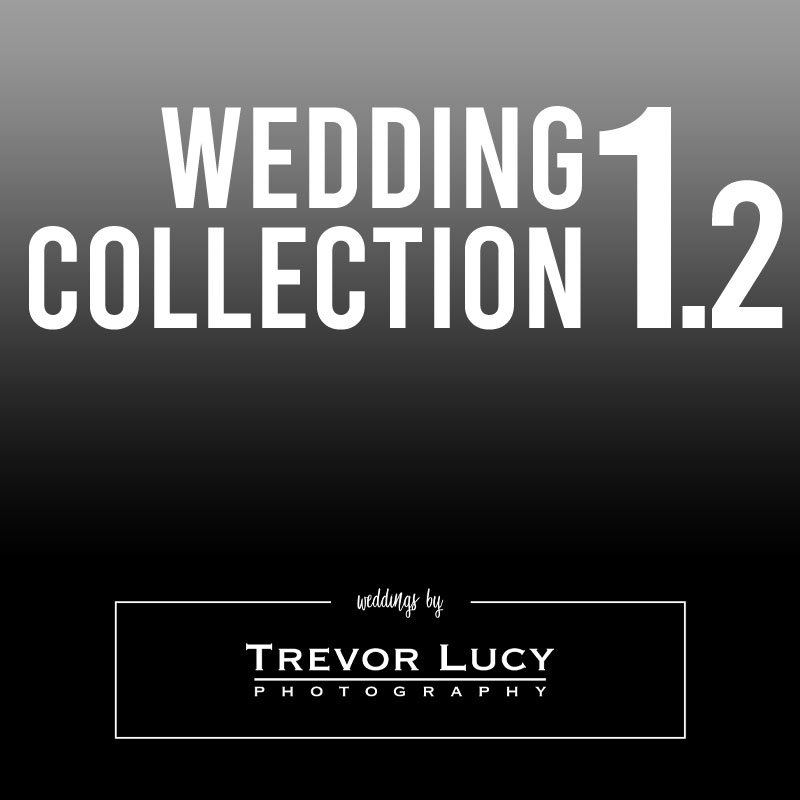 EVERYTHING as standard listed above, PLUS
40 Page Luxury Album
£1399
or £139.90/month (x10)

Wedding Collection 2 has everything that Wedding Collection 1 offers, but with your choice of album and style from an upgraded superior level of luxury wedding album options. The crème de la crème!
These albums offer the most options with various page types available and a wide range of album cover material options. The album covers can be anything from luxurious leathers, sumptuous silks, natural wood, woven, cotton, linen, metal, acrylic (sometimes referred to as a glass or crystal), Scottish tartans, and even Harris Tweed.
Let's create your dream wedding album!
Oh, and to sweeten the deal a little further…I also gift a complimentary on location or studio, pre or post wedding day shoot with Wedding Collection 2.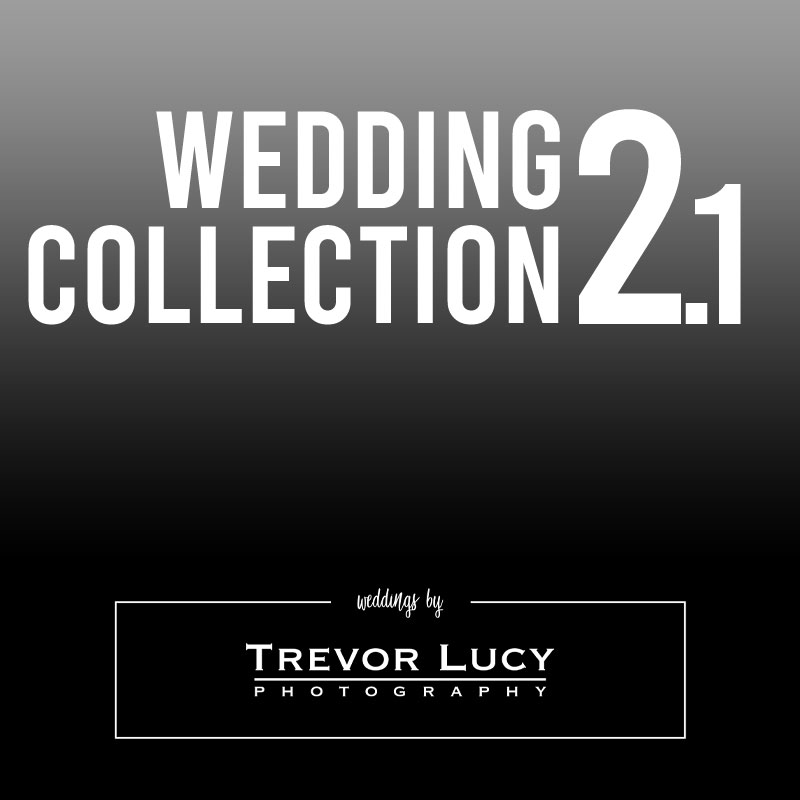 EVERYTHING as standard listed above, PLUS
Pre or Post Wedding Day Photoshoot, AND
40 Page Super Luxury Album
£1499
or £149.90/month (x10)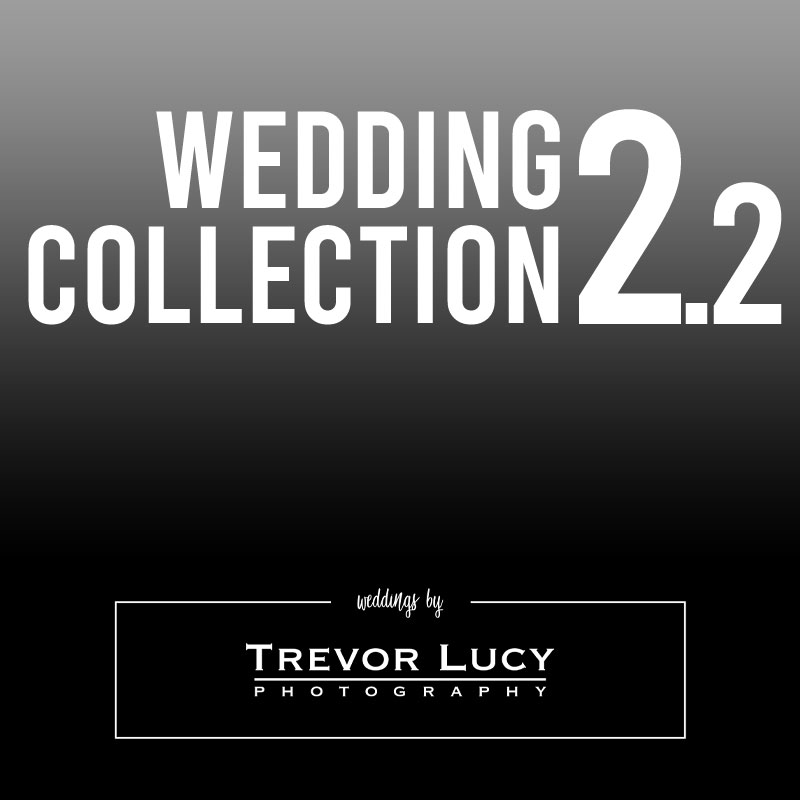 EVERYTHING as standard listed above, PLUS
Pre or Post Wedding Day Photoshoot, AND
50 Page Super Luxury Album
£1899
or £189.90/month (x10)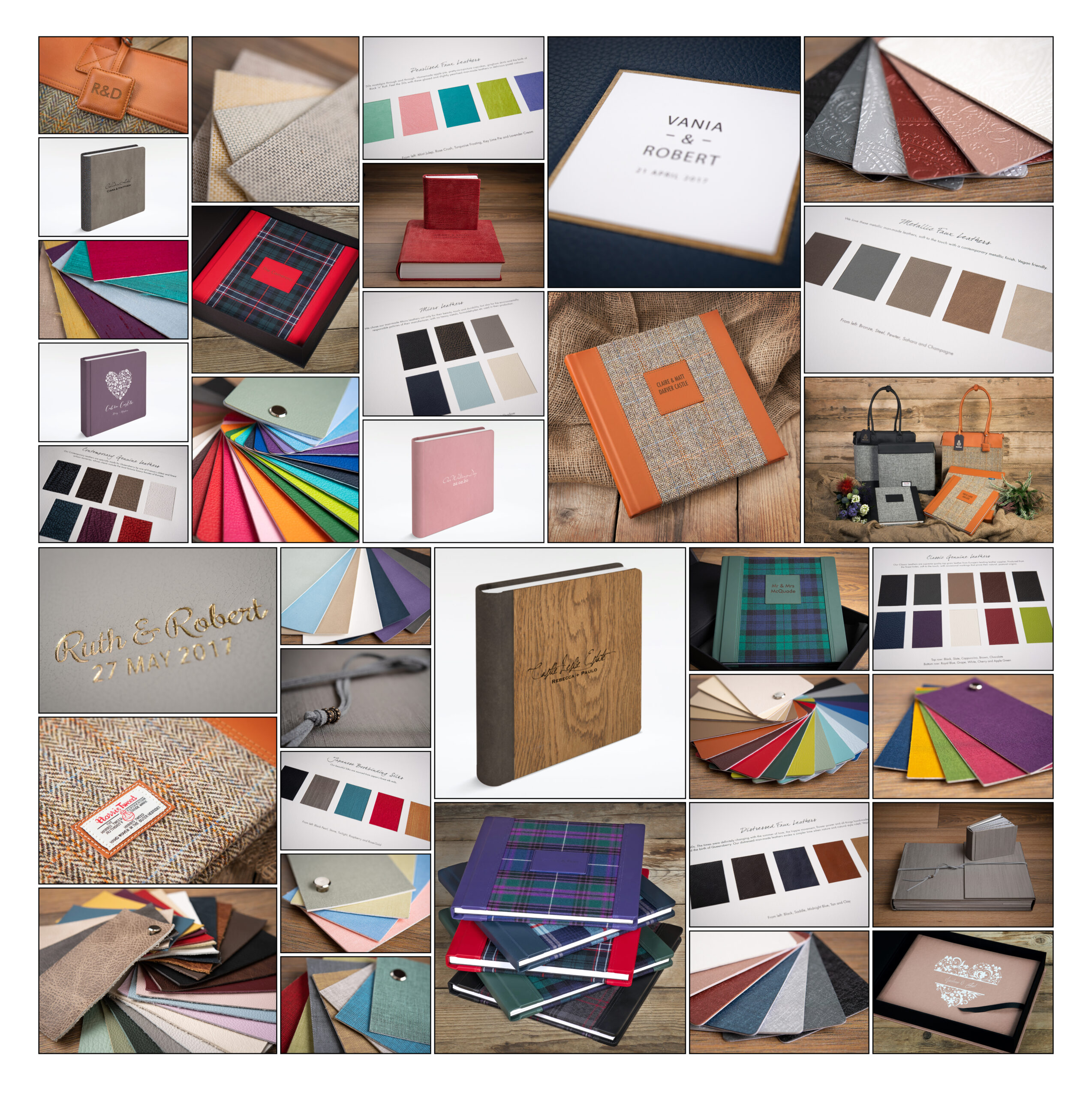 Please note, I operate on a first come, first serve basis, with a limited number of weddings each year.
Specialising in beautiful, relaxed and natural wedding photography, as well as completing your wedding process with stunning bespoke hand crafted heirloom products and custom, professionally printed and manufactured wall art.
Top Reasons To Choose, Trevor Lucy Photography
1. A relaxed, friendly and professional photographer who is dedicated to producing a first class service, from your initial enquiry through to the finished product of a beautiful, elegant and timeless album – your new family heirloom – that perfectly tells the story of your wedding day.
2. Flowing style of work that puts people at ease, making them relaxed and naturally comfortable, resulting in natural looking photos where people are happy, relaxed and don't feel posed or stiff.
3. Photographs which capture the emotions and special moments of your day in an unobtrusive manner.
4. Excellent location shots, making the best of natural backgrounds and weather conditions.
5. A guarantee that you will be able to view your wedding day photos within 8 weeks during your studio viewing session where you will be able to finalise your choices of your specially designed and unique wedding album.
6. Professionally printed products that are clean, clear, crisp and sharp, displaying true, accurate and consistent colours.
7. Wide range of wedding albums to choose from, with prices to suit most budgets. You'll be able to view numerous complete wedding albums, taken throughout all seasons with various weather conditions, so you can be confident that whatever the weather you will receive a stunning wedding album.
8. Stunning range of extras available including wall art, mini duplicate albums and fine art mounted prints.
9. The option of an interest free, automated split payment system, to help budget your wedding costs.
10. Complimentary, no obligation consultation, to help plan your specific photographic requirements for your special day.
Your wedding experience in simple steps…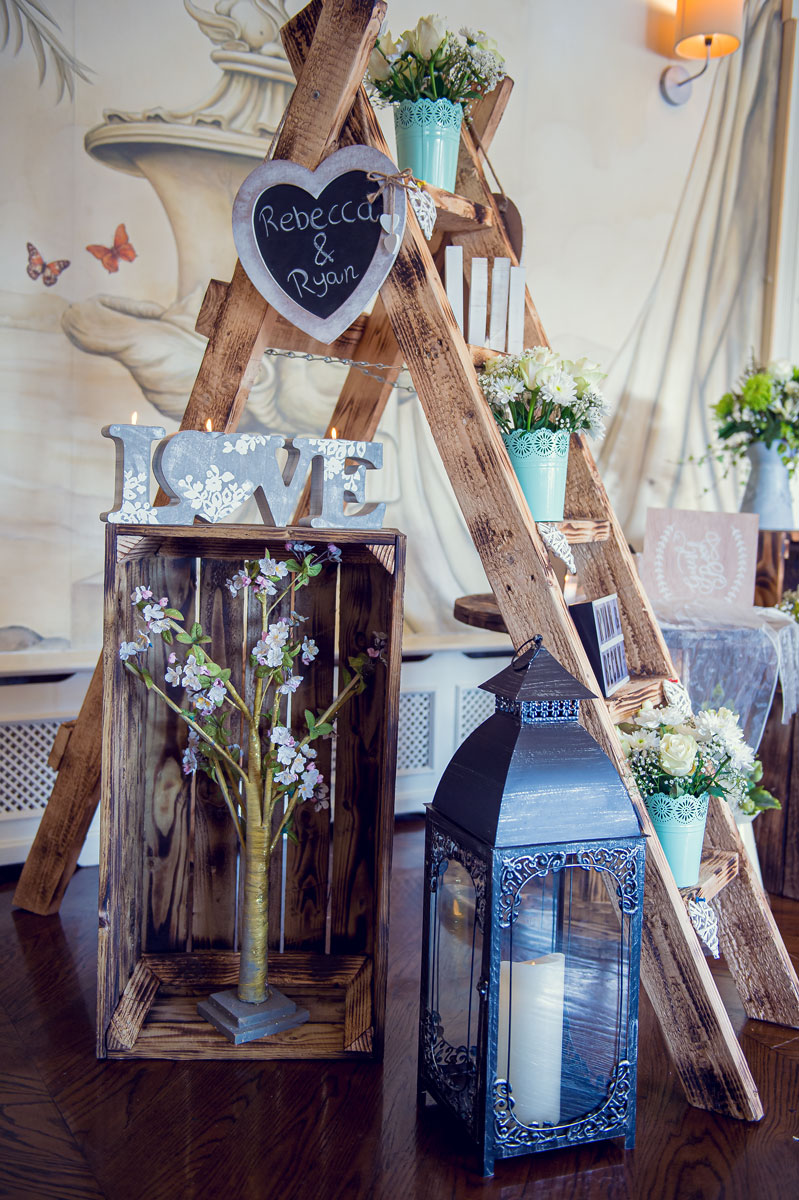 1. Booking & Planning
If you like what you see here, and would like to meet me and have a relaxed, no obligation chat, then I'd love to invite you to my studio so that you can see more.
You will have the opportunity to view my range of wedding photography albums, including full client albums, so that you can see my professionalism and feel the luxurious quality.
Find out exactly what is included in each of my fabulous wedding collections and select which one is best for you.
Once you know that I'm the photographer for you, then I can simply send you through my simple online booking form.
Note, if a physical visit doesn't suit due to distance for example, then we could simply schedule a video / Skype call instead – perfect!
Either way, I can't wait to meet you and learn about your love story so that I can then tell it through my work.
2. Engagement Session
Let the beautiful images and fun commence!
These are included as standard in my Wedding Collections 2 and 3. They can be purchased separately also.
We'll work together to choose a great location for your shoot, so that we can tell your unique love story whilst getting beautiful images of you, together as a couple, in love, and looking forward to your wedding day!
They're a great way for us to get to know each other a little better, and experience what it's like to be photographed by me.
You'll experience my relaxed, uncomplicated and flowing style which gives my images a great natural look. So if you're nervous about getting photos taken, you'll soon see that you have nothing to worry about!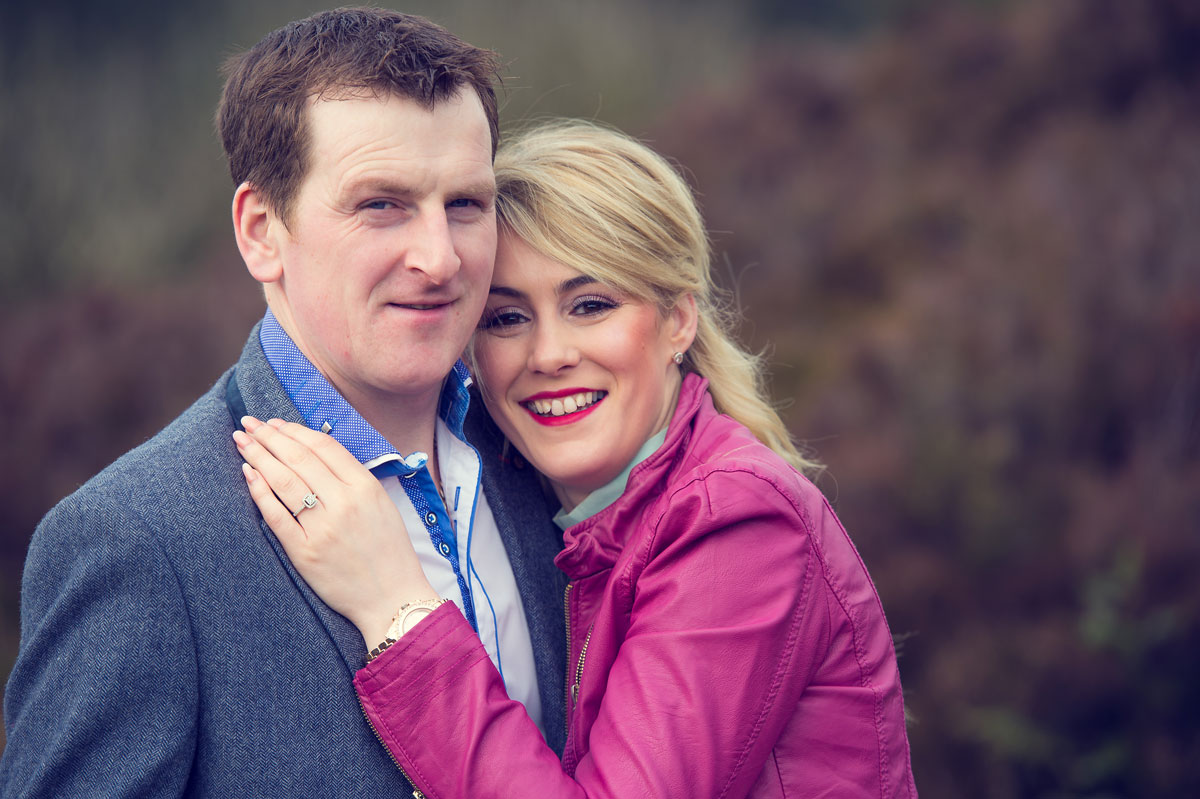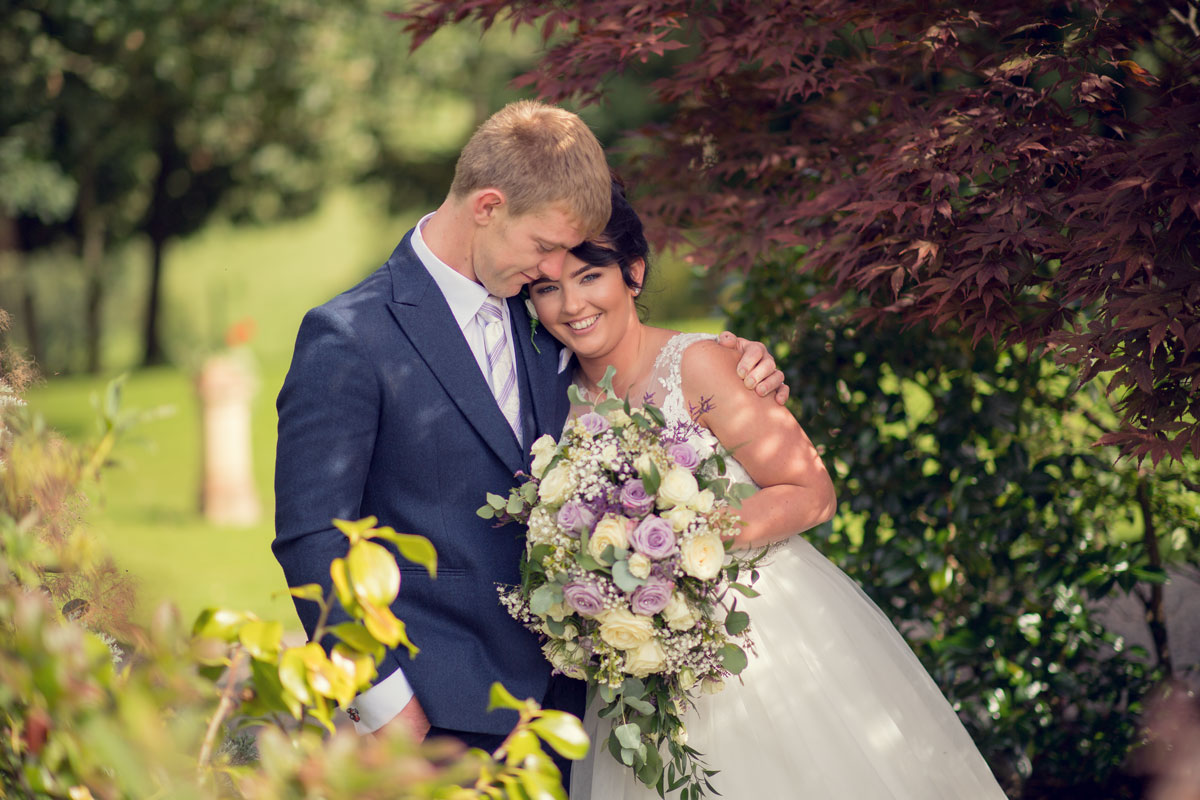 3. All In The Details
As your wedding day approaches, I will be available to help with whatever I can – vendor recommendations, timeline preparation, planning suggestions and more.
When we are just a couple of weeks away from your wedding date, we will plan a chat to finalise timelines and answer any last minute questions.
You will want your day to run as smoothly as possible and while it's a mega long day for everyone, particularly the bride, it will absolutely fly by! I aim to keep everything running on time so that you, and your guests, can enjoy your special day.
4. Wedding Day
The big day itself, yay!
I'll capture all the little details and special moments that tell your beautiful story, so that you have the perfect memories to last a lifetime, and live through the generations to come.
Capturing everything from your bridal preparations in the morning, right the way through to and including your before dinner speeches. We'll also capture you cutting your wedding cake too.
Some couples opt for the extended wedding day coverage where I'll stay and capture your first dances together as a couple too.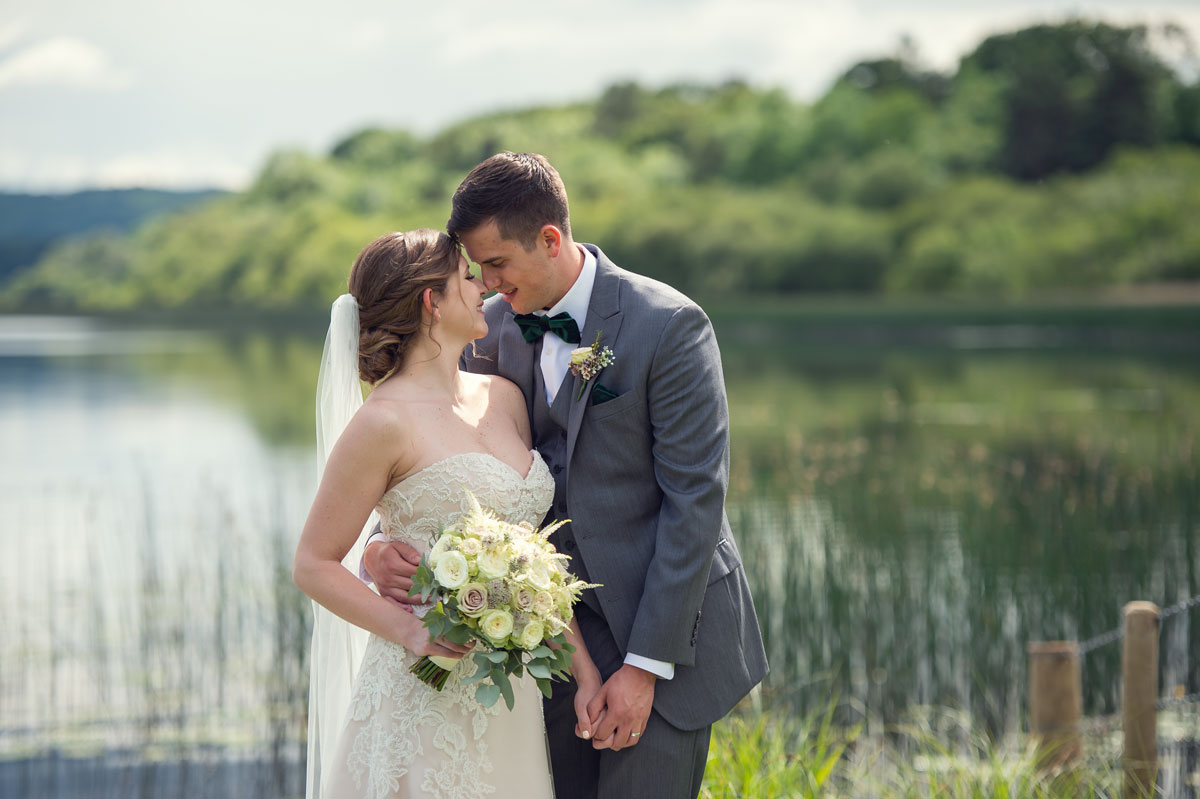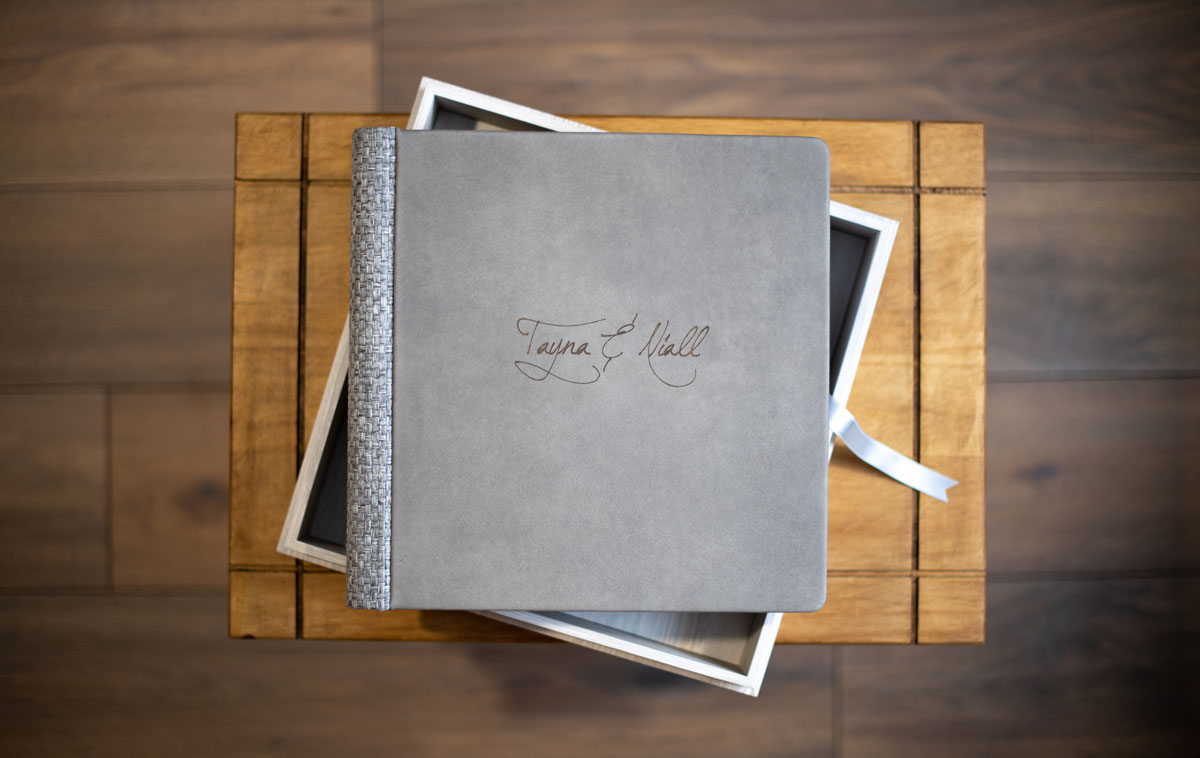 5. Your Wedding Album
It's the only thing that can tell your story forever.
We can create the album of your dreams, and one comes with each of my Wedding Collections as standard.
I work with a number of specialist suppliers around the world. They're amazing at what they do and each has their own special little quirks.
I'll advise as to which one I think best suits your own personal style from what I've seen at your wedding, but ultimately, the choice is entirely up to you. 
I'm here to answer any questions you may have. Choose one of the options below so we can schedule you in 🙂

Book Your Wedding Date Now
Studio Address: By appointment only
Unit 4, Riverside Retail Park, Kesh, Enniskillen, BT93 1UP